Protein Tests offer rapid and reliable way to monitor biological contamination on surfaces
3M™ Clean-Trace™ Surface Protein Plus Swab Testing
Will you pass the Kitchen hygiene test? Check for cross contamination on food and work surfaces with this easy swab test kit
What's more, it only takes seconds to do…. It's so easy. Simply swab the surface, click down the handle fully into the tube and shake for 5 seconds. After 10 minutes check the colour change.
If it's green, it's clean!
If it turns purple, it's contaminated.
The 3M™ Clean-Trace™ Surface Protein Plus is rapid surface hygiene test based on the detection of protein from food residues and other sources.
The test can also detect other reducing substances present in food residues.
The chemistry is based on the Biuret reaction. Under alkaline conditions the Copper ions (Cu2+) form a complex with peptide bonds of protein and become reduced to Cu+ .Bicinchonic acid (BCA) under alkaline conditions is a highly sensitive, stable and specific reagent which forms a purple complex with Cu+.
The test provides an estimation of protein by means of a colour change. The darker the purple colour the more protein is present. Protein + Cu2+ Protein-Cu+ Purple BCA complex.
The test is a semi-quantitative test based on the colour change of the reaction.
Green – Clean
Grey – Low level of contamination
Light Purple – Moderate level of contamination
Dark Purple - High level of contamination.
The test is activated and measured after 10 minutes.
If high levels of contamination are present then the colour reaction will occur within 10 minutes.
If the test is still green at 10 minutes then the result is clean.
Colorimetric change in response to Bovine Serum albumin
10cm X 10cm / 4" X 4" on a flat surface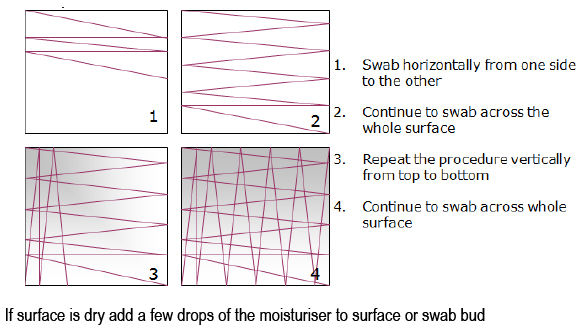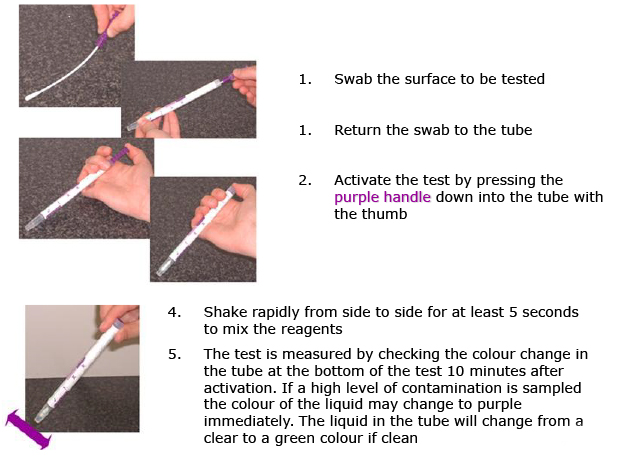 Interpretation of results
3M™ Clean-Trace™ Surface Protein Plus swabs can be stored at room temperature and do not need to be refrigerated. Optimum storage between 2 _ 25oC
3M™ Clean-Trace™ Surface Protein Plus swabs can be stored at 26 _ 35oC for a maximum of 2 weeks.
Shelf Life. 18 months from the data of manufacture.